WATER BATH INCUBATOR SHAKER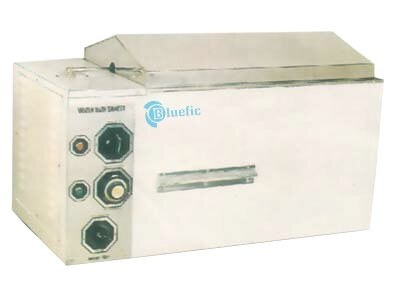 WATER BATH INCUBATOR SHAKER
Product Description
(Metabolic Shaking Incubator)
Temperature range from room temperature to 95 C. Thermostatic control with an accuracy of1 C. Double walled, inside made of stainless steel and outside mild steel sheet, painted in epoxy powder coating. Oscillating tray is riding on ball rollers. Shaking speed range 40 to 140 r.p.m. Shaking tray can hold either test tubes or flask of 25ml, 50ml, 100ml. To work on 220/230 volts A.C. without R.P.M. Indicator.
Shaking Tray Size (Stainless steel) Capacity(Approx.)
a) 275x275x150 mm 12 ltrs.
b) 405x300x150 mm 18 ltrs.
OPTIONAL:
i) Digital micro processor PID temp. controller.
ii) Stirrer with 1/20 H.P. High speed motor with stainless steel stirring rod and blade.
iii) Shaking tray for 25ml, 50ml, 100ml,250ml, 500ml and 25mm dia. test tubes orconical flasks.