SOXHLET EXTRACTION UNIT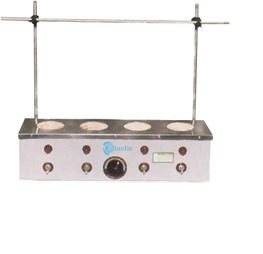 SOXHLET EXTRACTION UNIT
Product Description
This equipment enables you to run several projectssimultaneously or conduct multiple runs of the same project. Ideal forextractions, distillations etc. The equipment comprises of six 41/2" castaluminum plates having individual 'Sunvic' heat controls for setting the sametemperature for all six plates or for setting adjustable temperatureseparately. The temperature shall range from ambient to 300 C .Each hot plateshas a 300 watts Heater.

The Unit includes pilot lamps for individual plates and a lap for the powersupply. Rubber buffers prevent surface damage. The equipment is supplied withoutany glass parts. Works on 220/230 volts, AC.
a) The unit of3 mantels rating 500 watts.
b) The unit of6 mantels rating 750 watts.