SEROLOGICAL WATER BATH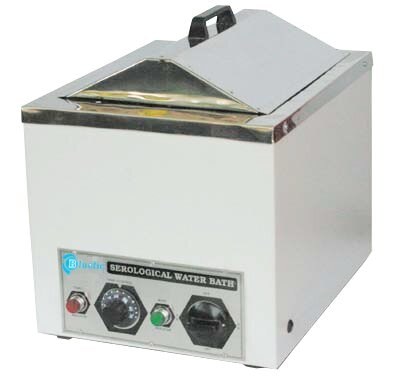 SEROLOGICAL WATER BATH
Product Description
Temperature range from ambient temperature to 80 C. Thermostatic control with accuracy of 0.5 C to 1C. Double walled, inside stainless steel and outside mild steel painted in epoxy powder coating. Bath consists of two pilot lamps. Temperature control knob and on/off switch. To work on 220/230volts A.C. Supplied with or without stirring arrangement, without racks and thermometer. Lid of water bath is made of stainless steel sheet.
Size inside chamber (Stainless steel) Capacity (Approx.)
a) 300 x 250 x175 mm (suitable for 2 racks) 14 ltrs.
b) 375 x 300 x175 mm (suitable for 4 racks) 18 ltrs.
c) 455 x 300 x175 mm (suitable for 6 racks) 25 ltrs.
d) 605 x 300 x175 mm (suitable for 8 racks) 32 ltrs.
OPTIONAL
i) L-shaped thermometer
ii) Digital temp. Controller.
iii) Stirrer with 1/20 H.P. high speed motor with stainless steel stirring rod and blade.