Plant Growth Chamber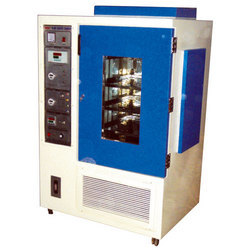 Plant Growth Chamber
Product Description
Plant Growth Chamber has outer wall made of M.S. Sheet duly painted and inner wall made up of heavy gauge S.S. Sheet (S.S. 304 Grades).Besides outer double walled door, a full view inner glass door allows inspection of test samples without disturbing the inner chamber conditions .Unit is supplied with three adjustable perforated shelves. Finned tube evaporator. Temperature range from 5 C to 50 C 1 C is controlled by dual setting microprocessor based digital temperature indicator-cum-controller so as to set two different temperatures for day and night or through a profile digital micro controller having 4 programmes each of 16steps (total 64 steps of ramp/soak profile). Exterior illumination with fluorescent tubes accounts for artificial day light. Cyclic illumination conditions are regulated by automatic Microprocessor based programmable Timer. When all the tubes are ON temperature rom 15 C to 50 C 1 C can be obtained. Fitted with microprocessor based digital humidity indicator- cum - controller to control humidity from 55% to95% at cool temperatures. Light intensity can be adjusted manually according to requirements. Arrangements for increasing the humidity are provided and not for decreasing. CFC free eco friendly compressor. To work on 220/230 volts A.C.
SIZE VOLUME CAPACITY
570 x 875 x 550 mm 10 cu.ft. 280ltrs.
775 x 900 x 775 mm 20 cu.ft. 560 ltrs.
825 x 1200 x 825 mm 30 cu.ft. 840ltrs.
900 x 1720 x 800 mm 45.8 cu.ft. 1282ltrs.
1200 x 1200 x 1200 mm 64.0 cu.ft. 1792ltrs.