MONOCULAR MEDICAL MICROSCOPE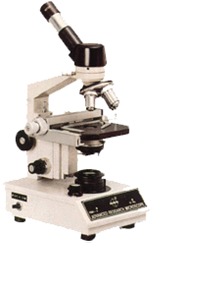 MONOCULAR MEDICAL MICROSCOPE
Product Description
BTM404 MONOCULAR MEDICAL MICROSCOPE: - Standard monocular body, tube inclined upto 90Deg.tube length 160mm with revolving triple nose piece. Separate coarse and graduated fine focusing knobs with vernier reading to 0.002mm. Detachable graduated. Mechanical stage for X & Y movements. Stage size 120x120mm. Provided with movable substage condenser N.A.1.25 with iris diaphragm. Illumination by Plano-concave reflector. Supplied with standard accessories.
Optical Combinations:
Achromatic Objectives: 4x/5x, 10x, 40x/45x 100x (SL) Oil immersion
Huygenian eyepieces: 5x &15x (any one) or WF 10x.
Packed in thermocole box and wooden box
Optional (Extra):
Sub-stage Lamp replacement with reflector
Graduated observation draw tube.