Kjeldhal Units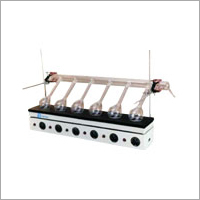 Kjeldhal Units
Product Description
Made out of mild steel duly finished in white stoving enamel/powder coated paint with mat finished colour combinations other metallic parts are chrome plated. All following units are available without glass part:
KJELDHAL DIGESTION UNITS:
Useful for estimation of nitrogen contents in substance by digestion in 300 & 500 ml flasks. Provided with fume duct (optional) made of lead and pair of hangers. Workable on 220V AC 50Hz single phase. Individual on-off switches and one energy controller for all units is provided.
Unit of 3 tests (Heater type)
Unit of 6 tests (Heater type)
Unit of 3 tests (Mantel type)
Unit of 6 tests (Mantel type)
OPTIONAL:
Fume duct made of lead or Borosilicate glass.
Sunvic energy regulator.
KJELDHAL DISTILLATION UNITS:
Asbestos tops mounted on mild steel tubular stand. Provided with condenser clamps and water manifold. Other specification as above.
Unit of 3 tests (Heater type)
Unit of 6 tests (Heater type)
Unit of 3 tests (Mantel type)
Unit of 6 tests (Mantel type)