CLINICAL MEDICO CENTRIFUGE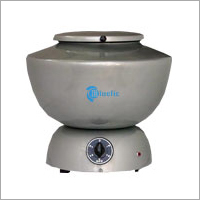 CLINICAL MEDICO CENTRIFUGE
Product Description
A modified model of medico centrifuge ideal for routine requirements of medical practitioners, pathological laboratories and hospitals. Fitted with resiliently mounted motor for vibration free performance, with specially wounded 5 step transformer speed regulator. The highly sophisticated elegant body of the equipment is made of fibre reinforced plastic, which gives protection against corrosion and electric shock.
Technical Specifications :-

Max Speed : 3600 rpm
Motor H.P. : 1/20
Single phase, 50 Hz AC/DC
Max. RCF : 1800 x g
Supply
:
230 volts

A 4 x 15 ml tubes.
B 6 x 15 ml tubes.

C 8 x 15 ml tubes.