BIO CHEMICAL OXYGEN DEMAND INCUBATOR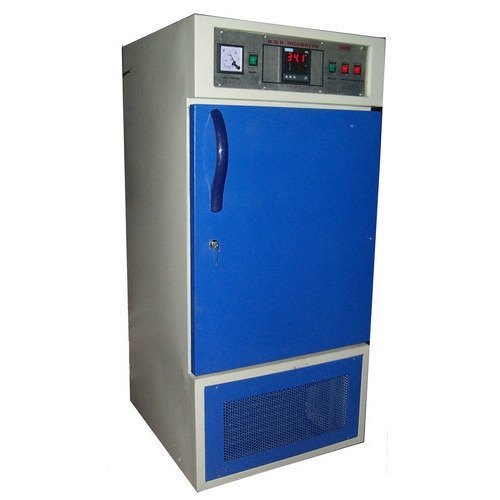 BIO CHEMICAL OXYGEN DEMAND INCUBATOR
Product Description
Designed specially biological Oxygen demand determination and other applications like general incubation, serum studies and enzyme assays tests. Castor wheel mounted cabinet is double walled. Inner chamber made of Aluminium / S. S. Outer chamber made of M.S. with powder coating. Full length inner glass / acrylic door permits inspection of Specimens Without disturbing the temperature. Temp. Controlled by Digital Temp. Controller cum indicator. Temperature range 5 C to 50 C with an accuracy of 0.5 C. This unit is fitted with door operated illumination lamp inside the chamber. Equipped with hermetically sealed compressor. Air Circulation Fan for maintaining temp. Uniformity through out the chamber. Flush fitting insulated double walled door has magnetic gasket.
The chamber is provided with modular removable shelves made of S. S. for complete flexibility is use. Inner chamber is fitted with refrigeration evaporator, heater and Air Circulator for creating positive Airflow through out the inner chamber for temp. uniformity. To work at 230V A. C. only.
Inner Chambers Capacity in cu. ft. Capacity
sizes in mm
a) 405 x 405 x405 2.4cu.ft. 65ltrs
(Bench Top Model)
b)455 x 410 x610 4cu. Ft. 112ltrs.
c) 505 x 415 x830 6.1cu.ft 171ltrs.
d) 565 x 565 x865 10cu. ft. 280ltrs.
e) 650 x 580 x900 12cu. ft. 336ltrs.
f) 700 x 650 x900 15cu. ft. 420ltrs.
OPTIONAL:
1. Time

2. Co2 air mixer nozzle is provided
3. Microprocessor PID digital temp. Controller.
*NOTE: - Stabilizer 3-5Kva is recommended.