BACTERIOLOGICAL INCUBATOR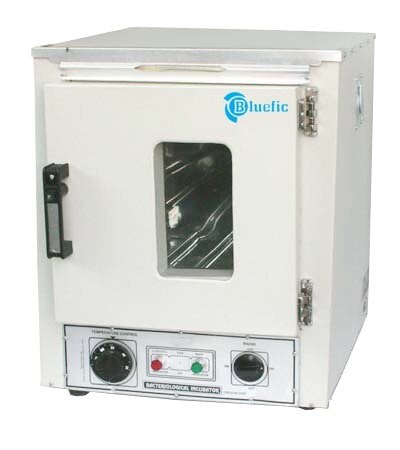 BACTERIOLOGICAL INCUBATOR
Price And Quantity
Product Specifications
Product Description
Incubators are sturdy double walled units .Inner chamber made of S.S. and outer made of Mild Steel with Powder coating. Double wall door with double glass window for observation in the chamber. Gap between the walls fitted with glass wool insulation to avoid heat loses. Heating elements are made of high grade chrome plated nichrome wire. Temp. is controlled by thermostat Temp. Range 5 C Above ambient to 80 C and Accuracy: + 2 C. Air Ventilations is provided on the top of the unit to remove the hot gases/fumes. In Lab type Incubators heaters are placed in the bottom side of the unit. All the control switches & pilot lamps are fitted on the front panel. Trays should be supplied with G.I. wire mesh.
Chamber size in mm/Inches No. of Capacity
H D W Shelves (Approx.)
a) 300 x300 x 300 (12"x12"x12") 2 28 ltrs.
b) 350 x350 x 350 (14"x 14"x14") 2 45 ltrs.
c) 400 x400 x 400 (16"x16"x16") 2 65 ltrs.
d) 450 x450 x 450 (18"x 18"x18") 2 95 ltrs.
e) 600 x450 x 450 (24"x 18"x18") 2 125 ltrs.
f) 600 x600 x 600 (24"x 24"x 24") 2 224 ltrs.
g) 900 x600 x 450 (36" x 24"x18") 2 252 ltrs.
h) 900 x600 x 600 (36"x 24"x24") 2 336 ltrs.
OPTIONAL:
1. Air circulating fan.
2. Timer
3. Microprocessor PID digital temp. Controller.