Trinocular Fluorescence Microscope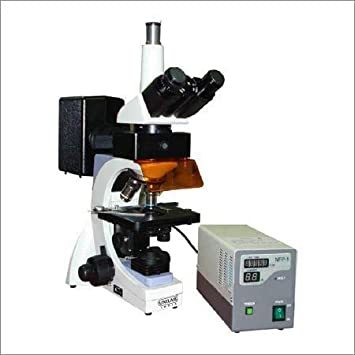 Trinocular Fluorescence Microscope
Price And Quantity
Piece/Pieces

2000-1500000 INR
Product Description
Specifications same as model BTM 423 butprovided with Trinocular Head with 45 deg. inclined binocular observation andstraight tube for Photomicrography

A Robust and stable die-caststable body with Co-Axial coarse and fine focusing mechanism based on four step reeducation gearssystem which runs on ball- bearing guide ways with tension control ring.Stopper system is provided so that the slides may not damage.

Binocular Head Inclined at 45/30deg.With all Anti-Fungal Coating prisms. Ratable 360 deg. IPD adjustment between54mm -74mm.
Nose Piece A high precisionquadruple nose piece running on Balls with positive indexing.
All positions are parcenteredand personalized
Mechanical Stage- Lowpositioned Co-axial calibrated double plate mechanical with feather touchmovement. Wide Field eye piece.
Epi Fluorescent System: The Epi-Illuminationis through 100W Ultra High pressure Mercury Lamp in a Lamp House attached tothe Fluorescence Filter Block.
Filters -Two Exciting filtersB (Blue), G (Green) Exciting light Filter system, O Ordinary Light System.
Protection Barrier- Orangecoloured plastic screen protection barrier to resist the Ultra Violet Light.
Eye Piece- High Eye PointAnti Fungal Extra Wide Field 10x /FN 18mm) paired eye piece
FluorescenceObjective: 4x,10x,40x(SL) ,100xOil(SL) with Immersion Oil Fluorescence Free Power : AC input 220V,Indicator Display.