OVER HEAD PROJECTOR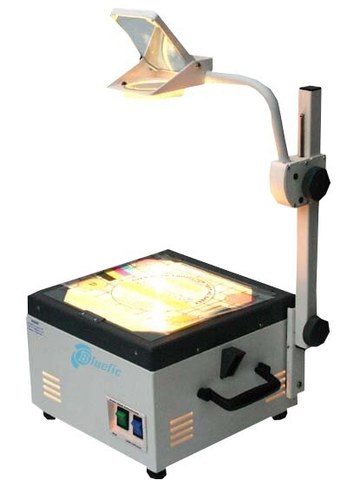 OVER HEAD PROJECTOR
Product Description
Streamlined body finished in various pastle colours.Projection head folding type, focusing by Rack-n-Pinion. Illumination -600/650W-220V AC or 24V-250W halogen bulbs on step-down transformer with solidstate control Light intensity and cooling system to projector overheating selflubricating type motor, the stage temperature is maintained at 45 C approx.Interlocked with switch for lamp protection against voltage surges. Writingsurface 250x250mm or 285x285mm.
Complete with on-off switch, mains indicators, lightintensity control switch cord plug & fuse etc Accessories provided aretransparent cellophane roll writing pen pack cleaning cloth venyle cover.Packed in a card-board box with thermocol packing.
a) Single bulb low voltage 24V-250WHalogen through step-down transformer.
b) Double bulb low voltage system with two Halogen bulbs24V -250W through step-down transformer. The dual bulb system facilitatesswitching over to second provided bulb instantly in case of damage of therunning one with out disturbing continuity of discussion. Writing surface 250 x250 mm