AUTOMATIC TISSUE PROCESSOR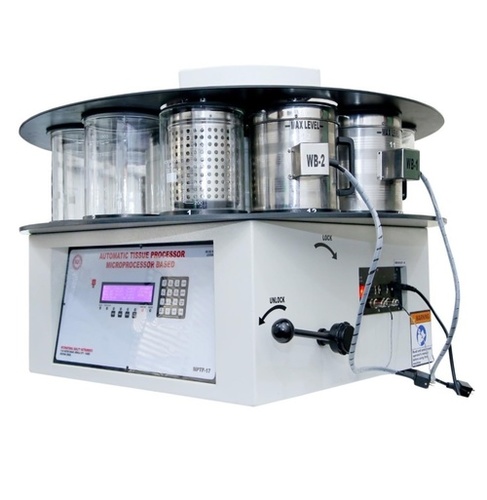 AUTOMATIC TISSUE PROCESSOR
Product Description
processingoftissueinHistologyLaboratories.

BTI-172A

removesallthewaterfrom a tissue sample and replaces it with paraffin wax with optimum speed tocurtail damage to tissues caused by dehydration and shrinkage
SYSTEM ISPRUDENTAND WELL GUARDED
FEATHERTOUCHKEYBOARD
DIGITAL DISPLAY
ERGONOMIC CONTROL PANEL
EASY TOCLEAN
PRODUCT DESCRIPTION:
Systemis prudent andwell-guarded.
Designis stout and proposes unswerving performance onsmallestspace.
OperatedbyFeathertouchkeyboardwithdigitallydisplay. Displayshows:Realtime, date, month andyear.
Waxbath temperature: set temperature and attain temperature. Station no.Is display in which tissue basket is running.
Station time and lapse time shown ondisplay.
All electrical switches used as ISI marked andsilver coated and heavyduty.
Glass beakers without lip to avoid evoporisationborosil 2 litrecapacity.
Leak-proof waxbath
Internal parts fabricated from LM grade Aluminium.
Centre brass rod moving on linearbearing.
Heavy duty rotor motor used foragitation

SystemhasanergonomiccontrolpanelwithLCDdisplaytoshowallparameterslike program number, duration, time,date, paraffin bath temperatureetc.
System has carousal type construction with 12processing station 10 reagentstation,2 waxbaths.
Included with wax bath over temperature (at 75C)and under temperature cut-off facility for the safety oftissues.
Hasagitationin3secintervalswithon/offfunctionforthroughandevenmixingof regents
Comeswithstoragefacilityof9ormorefreelyselectableprograms.Programsinclude selection of infiltration time,agitation, facility, basket selection facilityetc.
Provided with locking facility for user to avoidinadvertent change of theprocessparameters duringoperation
Draintime of 60sec in each station of reduce carry overcontamination
Has aprogrammable infiltration time from 5 minutes to 99 hours 59 minutes in1 minutesincrements.
Delayed start up function to a maximum of 9days
Facility of beaker being automatically immersedin a station duringthe Powerfailure(Optional

Facility of manual lifts the carousal and removabletissues in case of long powerfailure
USFDA/ European CEcertified
STANDARD ACCESSORIES:
Mainunit-One
Tissue Basket-Two
Wax Bath-Two
Main Lead-One
Dust Cover-One
Tissue Capsule Small & medium- Twenty Five
Glass Beaker-Twelve
Glass fuse-Two
Instruction manualone