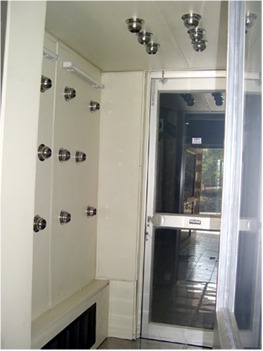 AIR SHOWER
Product Code : 004
Product Description
Since our establishment in 2002, we are committed to manufacture, export and supply an excellent quality
Air Shower
. This shower is widely used in clean room for decontamination of bodies from dust and dirt particles. The offered shower is manufactured under the vigilance of our skilled professionals using quality tested raw materials with the help of pioneering techniques. Moreover, this
Air Shower
can be purchased from us at economical prices.
Features:
High functionality
Sturdy structure
Easy to operate
Optimum performance
BTI 183 a AIR SHOWER
Air shower is a necessary passage for person or goods entering into the clean room in order to minimize the amount of particulate contaminants. Personnel move through the air shower while particulate contaminants are blew off by the clean high velocity. The high air velocity of 25m/s ensures the efficiency. Contaminated air is then taken in through the base of the unit, filtered and recirculated into the chamber
Technical specification :

External dimension (L x W x H)(mm) :-

1400 x 1000 x 2180
1400 x 2000 x 2180
1400 x 3000 x 2180
Internal work zone (L x W x H)(mm) :-
790x930x1910
790x1930x1910
790x2930x1910
Persons Per Cycle :-
1-2 person

2-4 person
3-6 person
Industries where this product is used :

Institutes, Medical Colleges, Industries, Pharmacy colleges and Industry, Laboratories, Pharmaceutical Industry, Hospitals

Since our establishment in 2002, we are committed to manufacture, export and supply an excellent quality
Air Shower
. This shower is widely used in clean room for decontamination of bodies from dust and dirt particles. The offered shower is manufactured under the vigilance of our skilled professionals using quality tested raw materials with the help of pioneering techniques. Moreover, this
Air Shower
can be purchased from us at economical prices.
Features:
High functionality
Sturdy structure
Easy to operate
Optimum performance
BTI 183 a AIR SHOWER
Air shower is a necessary passage for person or goods entering into the clean room in order to minimize the amount of particulate contaminants. Personnel move through the air shower while particulate contaminants are blew off by the clean high velocity. The high air velocity of 25m/s ensures the efficiency. Contaminated air is then taken in through the base of the unit, filtered and recirculated into the chamber
Technical specification :

External dimension (L x W x H)(mm) :-

1400 x 1000 x 2180
1400 x 2000 x 2180
1400 x 3000 x 2180
Internal work zone (L x W x H)(mm) :-
790x930x1910
790x1930x1910
790x2930x1910
Persons Per Cycle :-
1-2 person

2-4 person
3-6 person
Industries where this product is used :

Institutes, Medical Colleges, Industries, Pharmacy colleges and Industry, Laboratories, Pharmaceutical Industry, Hospitals